Why listen to only one patient if you can listen to millions of patients at the same time?
Pharos is making data-driven, patient-centricity a reality through the potential of
 Artificial Intelligence ♦ Data ♦ Natural Language Processing
Largest real-time patient experience data stream on earth
Imagine millions of patients' experiences at your fingertips
A world-class machine-reading artificial intelligence for Pharma
Data-driven, real-world evidence generation
The cost, complexity and long timeframes associated with evidence generation through traditional approaches prevent agile research and the broader utilisation of authentic patient insights in the treatment development and commercial pipelines. 
The Pharos Suite
Our Pharos Suite provides technology and an analytical methodology to access and understand patients across therapy areas and time. It is built on three key components:
1. HyperStream
The largest real-time patient experience data stream on earth.
2. Sphinx AI
A hybrid AI and Knowledge Engineering system that 'reads' HyperStream data and turns unstructured patient data into valuable datasets.
3. Pharos
An intelligence platform to rule them all. It provides you with easy and intuitive access to research-ready patient data sets that will help you discover insights, track variables and developing trends.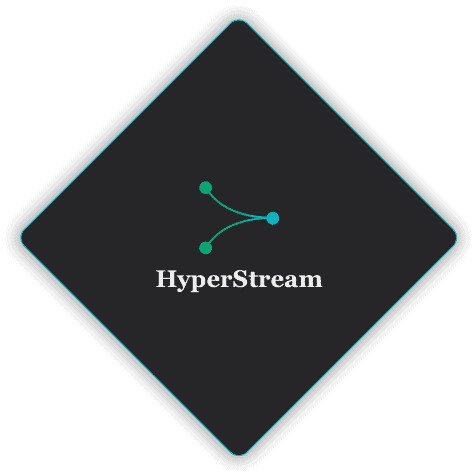 Our HyperStream represents the largest real-time patient experience data stream on earth. It captures the real-world digital history of diseases, as they are shared by authentic patients online.
HyperStream's key features:
collects patient experience data from 25,000,000 online sources

anonymises patient experiences

turns fragmented data points into a single longitudinal patient experience data set
Semalytix's proprietary artificial intelligence and Knowledge Engineering system for Pharma is called Sphinx AI. It reads through millions of patient journeys every day and identifies if and how patients describe their
disease burdens

symptoms

treatment experiences

a host of aspects surrounding quality of life
Sphinx AI separates noise from signal and harmonises fragmented pieces of evidence.
Sphinx AI turns millions of narratives into a faceted, longitudinal, patient-experience data set for any given disease. It extracts key aspects related to quality of life following the WHOQOL taxonomy:
Physical Health,

Psychological Health,

Level of Independence,

Social Relations,

Environmental,

and Non-Material aspects.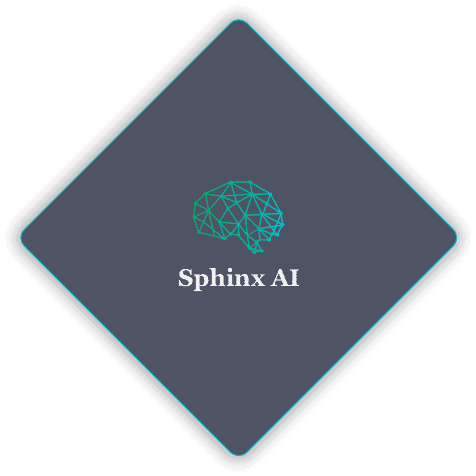 In a nutshell
Sphinx AI identifies patient-reported outcomes around
important quality of life impacts

expressions of disease burdens

patient-reported treatment experiences
quantifying their relative importance, impact and severity for the patient.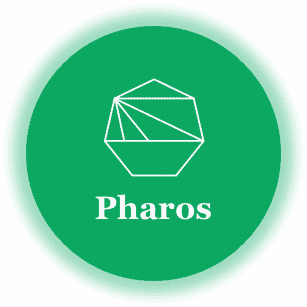 Diseases
Diseases that Pharos has already analysed data for:
Crohn's Disease
Breast Cancer
Psoriasis
Obesity
Ulcerative Colitis
Melanoma
Lupus
Diabetes
Currently, on the horizon:
25 indications across Oncology, Metabolism, Respiratory, Central-Nervous Systems, Inflammatory and Rare Diseases.
Pharos is a web-based evidence generation tool and research framework that uses its integrated data streaming and AI capabilities to efficiently capture online patient experience data, and enables teams to quickly discover evidence when they need it.
Through Pharos, we want to
remove cost and complexity from making real-world data research-ready.

make it easier to access and understand authentic patients' perspectives on quality of life, disease burdens and available treatments. 

make collaborative research, evidence generation and insight sharing more effective and reactive to quickly evolving business needs. 
To date, the Pharos Suite has successfully been used to generate evidence and patient insights in multiple therapy areas and diseases.
This list of diseases is continuously expanding, as our engineers, data scientists and medical experts work to integrate and deploy dozens of new indications every year. If you are curious about already covered indications or the roll-out plan for new indications, feel free to request information here.
In application, the Pharos Suite is a full-circle strategic solution that can help you design, continuously improve upon, and execute an evidence-based strategy to drive patient-centricity and patient-focused decision making along the entire treatment development and commercialisation life-cycle.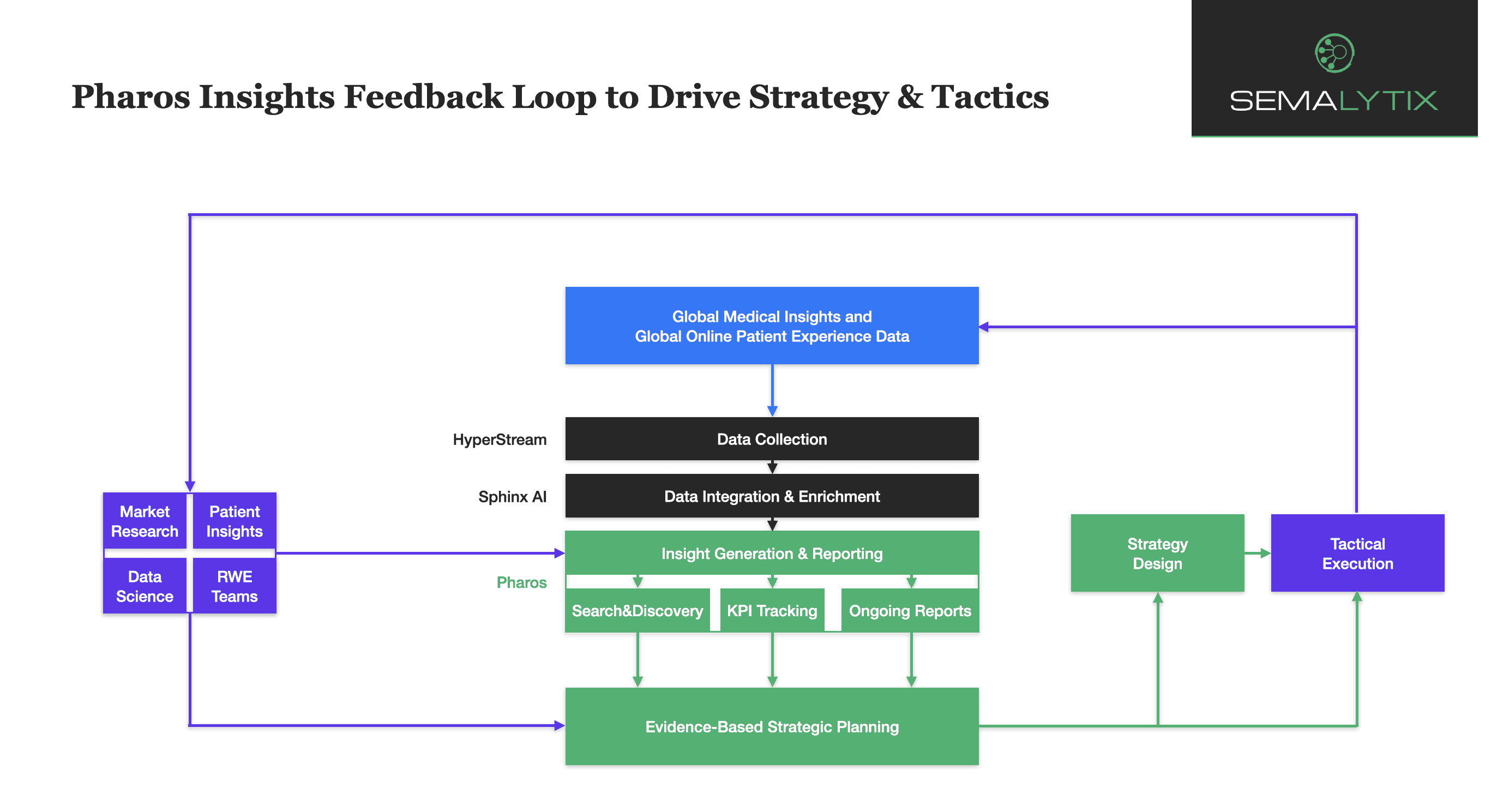 Early pipeline decision-making
The Pharos Suite supports cross-functional teams including
strategic marketing ♦ clinical research ♦ business development ♦ market access 
to prioritise drug developments and acquisitions that focus on the needs of patients. Pharos can be used as a tool to complement current market research methods and inform the definition of target product profiles that are centered on patients' unmet needs. Pharos helps to design value propositions and develop data and evidence generation plans to substantiate the propositions.
The Pharos Suite supports medical teams in understanding the characteristics of target populations via surrogate online populations. Pharos allows to study patient populations comprising of thousands of patients in terms of their burdens, physical and psychological needs and their social context. This supports the design and incorporation of relevant endpoints into phase II, III and IV trials to demonstrate the potential of drugs to improve patients' quality of life and address their most pressing needs. It allows to design trial protocols centered on patients' needs, thus meeting regulators' guidelines for patient-centered drug development.
Value Demonstration and RWE generation
The Pharos Suite can inform the interpretation of data for benefit-risk-assessment studies by factoring in patient preferences and trade-offs considered by patients. It supports comparative effectiveness research by generating RWE to demonstrate real-world outcomes in comparison to competitors. Pharos can highlight which benefits/outcomes patients report and which of them have the strongest impact on their quality of life. Pharos can thus inform your HEOR and RWE generation activities.
Marketing & Support Programs
The Pharos Suite can inform product launch activities and marketing tactics and support the design of information and communication material that take into account patients' informational and emotional needs. Pharos is a key instrument for effective communication with patients and for the design of support programs for patients that meet patients' expectations and needs.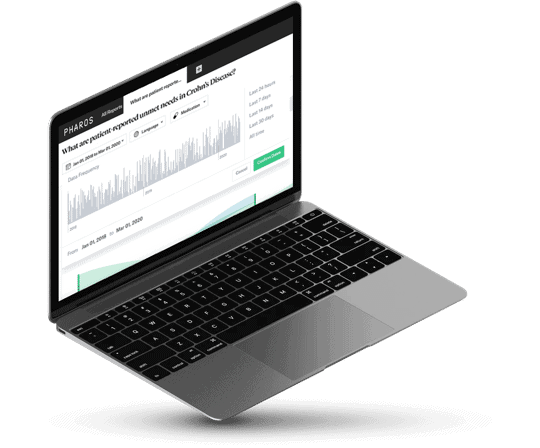 1. Select a disease and the target population.
Choose the disease, demographic variables, and timeframe (historic analysis and/or real-time) that suit your requirements.
2. Collect data from 1 billion patients worldwide.
Through our HyperStream, we collect patient generated real-world data on the relevant disease from 25,000,000 data sources world-wide in 11 languages for all diseases.
3. Sphinx AI turns the collected real-world data into real-world evidence.
Our AI reads, sorts, and enriches the collected experience data using specifically designed natural language processing algorithms that are based on the FDA's patient-focused drug development guidelines.
4. Pharos and deployment strategic services.
Get access to the enriched patient data and segment online patient populations through our real-time intelligence software platform: Pharos. Our hands-on deployment strategists will assist you in using Pharos' features efficiently and help you derive value from the data of your specific use-cases.